Pilot Project 1:
In 2009, Tianjin Yuchuan Microbial Production Co. Ltd. invested in a sludge treatment facility with 30/ton/day capacity. This pilot facility was located in Tianjin Binhai New Area Tanggu National Marine Hi-Tech Development Area. It became operational in 2010. Now it produces 558 tons of sludge microbial protein and 3750 tons of landscaping soil annually (w/c 52%).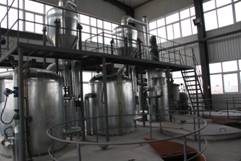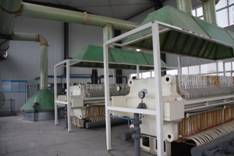 Pilot Project 2:
One of the sub-projects of the Yuchuan Solid Wastes and Residual Heat Utilization Project (also known as Yuchuan Circular Economy Project) is the 300 tons/day sludge treatment facility. Yuchuan Circular Economy Project is a NDRC resource conservation and environmental protection project, located in Tianjin Binhai New Area Tanggu National Marine Hi-Tech Development Area. The project is adjacent to the newly constructed North Tanggu wastewater treatment plant and North Tanggu power plant. The project uses wastes, such as the wastewater and sludge from the wastewater treatment plant, slag and ash from the power plant, steam, residual heat and construction waste, to produce environmental friendly products. Yuchuan Circular Economy Project sets an exemplary demonstration project for circular economy while bringing enormous social, environmental and economical benefits.
The first phase of the sludge treatment project will be the installation of a 300 tons/day capacity sludge treatment and reutilization facility, using microbial protein extraction technology to treat wastewater sludge produced by North Tanggu Wastewater Treatment Plant as well as other wastewater treatment facilities. The designed process will ultimately achieve sludge decontamination and treatment while producing high value-added products such as microbial protein, organic fertilizer and landscaping soil. In the 2nd phase of the project, fire extinguishing agents and cellular concrete production lines would be constructed.
Circular Economy Demonstration Figure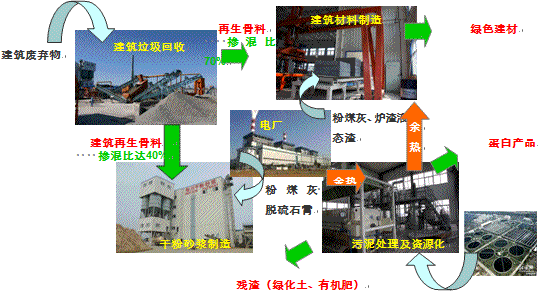 Welcome to contact us
Tel:+86-22-66211336
Fax:+86-22-66211336
Email:etoffice@tjycjt.cn